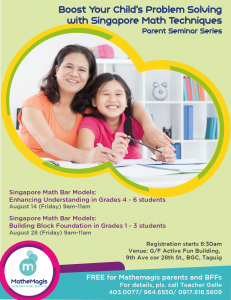 Learn the best strategies to teach bar-models to your kids across grade levels with Mathemagis' Parent seminar series.
Enhancing Understanding (Grades 4 to 6)
Parents of students from grades 4 to 6 will learn bar-modeling strategies applied to word problems as an alternative to algebra.
August 14 (Friday) 9-11am

Building Block foundation (Grades 1 to 3)
Parents will learn the basics of bar-models as applied to various topics across grades 1 to 3.
August 28 (Friday) 9-11am
Workshops to be held at Mathemagis Active Fun Center, BGC, Taguig City.
Mathemagis Parents and a guest can attend for free. P1,000 registration fee for non-Mathemagis parents.
Please call Teacher Gelle at 0917.816.5809 / 964.6550