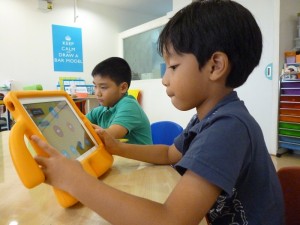 Starting June, kids enrolled in Mathemagis' Singapore Math program now have exclusive access to Bondanza, an iPad app for levels 1 to 3 which aims to develop children's mental calculation skills through Singapore Math's number bonds approach. It directly complements the Mathemagis program and will be used on top of the manipulatives and pen and paper work currently used in the program every session. This greatly helps in motivating kids to learn math and enjoy themselves.
Learn more about the benefits of technology in education here.
Where can we get the app?

was developed for exclusive use of Mathemagis and is not available in the iTunes store. Although there are a lot of math programs available, none of them applies the Singapore Math approach and progression to learning math.
Enroll your kids in Mathemagis and watch them enjoy use of the app.