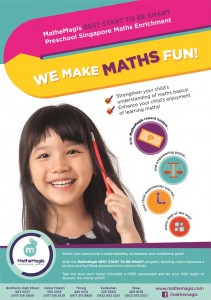 Preschoolers four to six years old will  boost  their confidence, number sense and problem solving skills with Mathemagis' new Best Start to Be Smart Program.  Four developmentally appropriate levels ensures your child's mastery of basic math concepts and builds the best foundation for Math skills. To get the best start, students are given a free assessment test to determine  just the right starting point in the program.
Unique and Effective Program
Students in the program get a Best Start Passport which outlines the various topics kids will learn.  Upon completion of a topic, students get a reward badge sticker to celebrate their achievement.  Reward badges increase motivation,confidence and positive attitude towards math. Moreover, the passport helps parents set goals with their kids and increases the desire for completion and achievement.
Unlike other math preschool programs which uses purely worksheets,  Best Start to Be Smart incorporates concrete objects, manipulatives and visualization to teach math concepts.
Why start early?
"Research on children's learning in the first six years of life demonstrates the importance of early experiences in mathematics. An engaging and encouraging climate for children's early encounters with mathematics develops their confidence in their ability to understand and use mathematics. These positive experiences help children to develop dispositions such as curiosity, imagination, flexibility, inventiveness, and persistence, which contribute to their future success in and out of school (Clements & Conference Working Group, 2004)"  

http://www.nctm.org/earlychildhoodmath/
Give your child the best start to be smart with Singapore Math! Call and visit our center for free assessment.