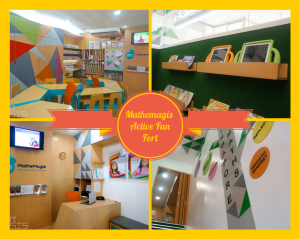 Mathemagis opens its Maths park concept center at the Mezzanine of the Fundamentals toy store at Active Fun Building, Bonifacio High Street, Fort Bonifacio, Taguig.
Kids are greeted with a giant geometric tree with branches and leaves  extending up to the ceiling bearing the fruits of Mathemagis' core areas of math learning – Concepts, Skills, Processes, Growth Mindset, Reflection, and (our program's main focus) Problem-Solving Skills.
Kids walk into a veritable math playground with an assortment of manipulatives and other math toys on display.  To balance work and play, grass walls create a calming atmosphere as well as help focus the mind and encourage deep and creative thought.
Let your child experience the joy and power of Singapore Maths. Call 4030077  /   to schedule a FREE assessment.